International competition 1
Neely Goniodsky (United States)
A very short sexy tease film.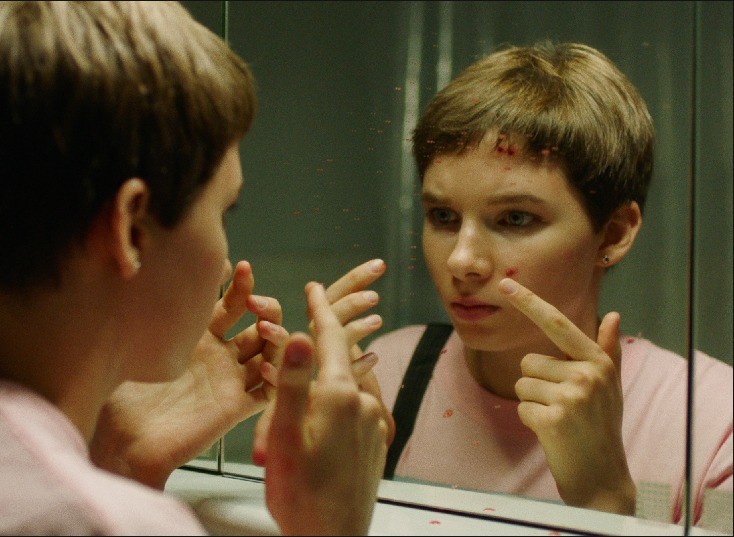 A small bump in an otherwise smooth tinder date sends Nastya on a gory journey of self actualization.
Ophir asks Harel for a small favour that might make him feel like a normal gay guy. OK, maybe not that small a favour. During the somewhat ridiculous, somewhat exciting night the two will spend in bed, they will learn a small lesson in intimacy and community.
Stories Keep Me Awake At Night
Jérémy van der Haegen (Belgium)
"Stories Keep Me Awake At Night" is the portrait of day-to-day childhood. A village, a family, a little boy who likes to wear dresses, the return of the wolf and everyday life, ordinary, banal. These elements are used to tell of hidden desires.
He's in his thirties, often feels lonely and left out, but luckily he has Michael, his best friend. Michael sends him strange videos found on the internet. They are destabilizing, sometimes shocking. Faced with these videos, he asks himself questions and sees in them the opportunity to finally belong to a group of individuals...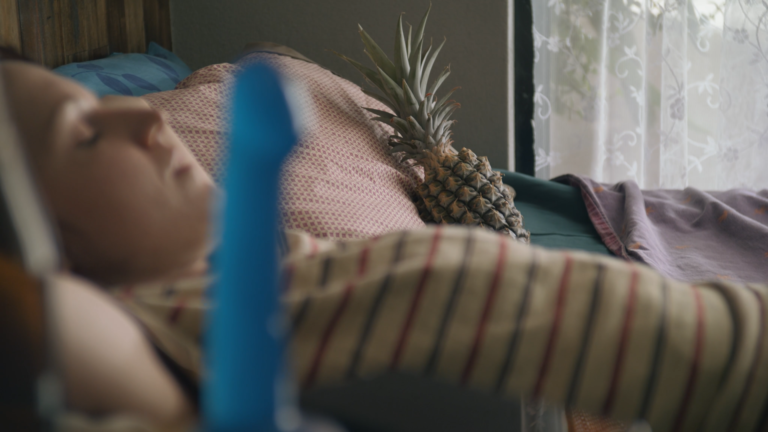 Emma O'Connor (Australia)
Zoe wakes up and discovers the girl she hooked up with the night before has turned into a Pineapple.
International competition 2
Marcel Barelli (Switzerland)
In nature, a couple is a male and a female. Well, not always! A couple is also a female and a female. Or a male and a male. You may not know it, but homosexuality isn't just a human story.
Ronja Berg, Birk Dahl (Sweden)
The multi wanker and consultant Joel is working remotly. One day he realizes he should start making porn.
In a bed at night a girl wants to tell her boyfriend that she loves him, but she wants him to say it first.
Left by her boyfriend she followed in a new city, Diana waits a green light after a job interview that would allow her to leave this place where nothing keeps her any longer, except the disturbing encounter with a climbing coach named Gaspard, just as lost as she is.
A film about masturbation, loneliness and the empowerment that can be found in being alone and in solo sexuality. The scenes jump between the main plot, the dream sphere and audio interviews.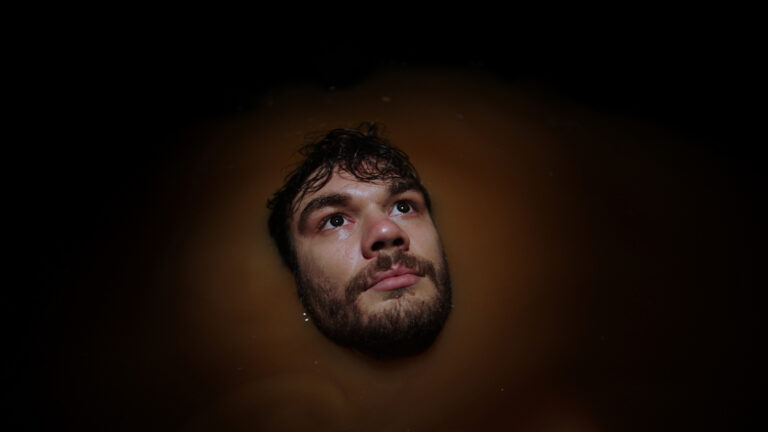 With a film to shoot in the near future, a director develops something more than a professional bond with his actor. When they go together to a rave party, things take an unexpected turn. Delusion or truth, the two end up with no answers.
International competition 3
René Nuijens (Netherlands)
The film takes us to an intimate moment of Dick and Mary who meet each other for the first time during the Covid pandemic. An empty restaurant, a somewhat odd waiter and his strict measures make it a tough evening. Or will love prevail?
Mees Peijnenburg (Netherlands)
A portrait of the 35-year-old illegal refugee Sabr who works as a sexworker in Dutch illegal male prostitution. One nigh, at a date, Sabr gets trapped and is being held in a situation filled with blackmail. With the money Sabr earns he eventually goes to a female prostitute himself. A cycle around abuse, dominance and power.
Nathan Fagan, Luke Daly (Ireland)
In bedrooms and on couches. Late at night and in the early hours of the morning. Strangers, acquaintances and casual flings open up to each other - revealing their most private, occasionally uplifting, sometimes shameful parts of themselves in the fleeting intimacy after a sexual encounter.

Skin to Skin is an experimental documentary exploring the beautifully messy relationship between intimacy and LGBTQ+ hook-up culture. Directed by award-winning directing duo LUNA, the film is a dreamy, kaleidoscopic journey into the real lives and stories of Ireland's vibrant LGBTQ+ community.
Transgender stand-up comedian Lady Lin has been using her identity as the punchline in performances to acquire attention, yet she is discontented with her approach.

One day, her estranged older brother shows up, informing her of their mother's recent death. His appearance brings back the pain she suffered when she was disowned by their parents seven years ago. Her loneliness pierces through her glamorous facade.

Touched, she decides to visit her hometown, only to learn the truth - her parents lied to everyone that she had died years ago to conceal her identity. Disillusioned, she turns around and leaves resolutely. Lin's only hope of reconciliation with her family is through the self-deceptive fantasies she performs onstage.
Suffering from unexplained vaginal pain, a frustrated acting student goes to a string of doctors, convinced that she is going to find a specialist who will figure out what's wrong with her.
International competition 4
A woman desperately tries to keep up with her partner's unusual desires.
Contraception is not for Pussies
Isn't it about time that men take charge of their own fertility? In this short, fragmental documentary we'll accompany young men, confronted with their own reproductive responsibilities and the male-female relations that define our current day society.
As a camgirl couple's channel rises to the top, their relationship falls to rock bottom.
Ted Hardy-Carnac (France)
Emilie is struggling in life. After numerous unsuccessful interviews, the lively but clumsy 30 year-old finds herself under a great deal of social pressure and fears to lose her home. Naturally she has high hopes when she is called in for a new interview, but in this future society that plays by slightly different rules, nothing goes as planned.
In an abandoned warehouse, a crowd is dancing as one on 145 BPM techno music. Among them is Dustin, a young transgender and crew: Felix, Raya and Juan. As the night draws on, collective hysteria morphs into sweet melancholy, and euphoria into yearning for tenderness.