Story behind Cherry Pop Film Festival 2023 edition
At a time when the freedom of expression and the right to self-identification are topics of heated debate worldwide, it is even more critical to encourage open dialogue about sexuality. By focusing our criticism on social norms and changes, we often need to remember to question our own views. We aim to do that as part of the Cherry Pop Film Festival 2023.
Film is the perfect medium for exploring our inner world of emotions and encouraging discussion about an experience so intimate but universal. How often have you been afraid to show your true feelings to someone? Have you ever felt like your partner's desire will consume you alive? Maybe you've been ashamed of losing your sexual toy somewhere? Don't worry, you're not alone.
The Cherry Pop Film Festival 2023 includes two international competitive programs – the Main and the Student competitions. We have gathered 33 short films focusing on all the challenges encompassed by sexuality as a topic.
The prize for the Main Competition, Sweet Cherry, will be awarded by a jury consisting of:
Nikki Bohm (director, screenwriter, actress, and producer)
Viktor Zahtila (director, journalist, and LGBT activist)
Nikica Zdunić (director, screenwriter)
Sour Cherry will be awarded for the best Student film, and the jury consists of:
Sara Grgurić (director, screenwriter)
David Gašo (director, screenwriter)
Rea Bušić (actress, educator)
Admission is free for all film blocks. All films will have English subtitles only.
The focus of the second edition of Cherry Pop is the relationship between sexuality and work. Therefore, in the accompanying film program Cherry Pick, we present three documentary titles. 
The winner of the Encounters section of the 72nd Berlinale, Mutzenbacher is a film by Austrian director Ruth Beckermann that, by confronting men of different ages with the infamous 1906 erotic novel of the same name about the sexual adventures of a Viennese prostitute, explores how society shapes our erotic fixations. 
The stylistic contrast is the verité approach of the Austrian documentarian Michael Glawogger, who, in Whore's Glory, takes us through three countries, three languages, and three religions unobtrusively while presenting complex stories about the working conditions of sex workers in Thailand, Bangladesh, and Mexico. 
The Cherry Pick selection is rounded off with Dana Budisavljević's documentary Straight A's, an intimate story about Lidija Šunjerga, a Croatian woman who at the age of 19 went to Amsterdam where she worked as a prostitute, but also about her not-so-easy return to her homeland 15 years later, where she faces numerous difficulties and prejudices.
17 h – Student Competition 1
Spectrum Of Ties
In a newspaper ad, Ruth Beckermann announces a casting call for a film based on the pornographic novel Josefine Mutzenbacher or The Story of a Viennese Whore in an exploration of the confines of male sexual fantasies.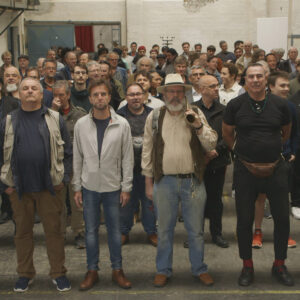 21 h – Main Competition 1
Fear & Doubt
17 h – Student Competition 2
Us, Them, Pride, Love
This documentary dwells into the lives of local sexual workers: three countries, three cultures, three religions – one profession. A thought provoking examination of the lives, needs, troubles, and hopes of prostitutes in Thailand, Bangladesh, and Mexico.
21 h – Main Competition 2
Love, Dicks & Vaginas
16 h – Student Competition 3
Therapy & Taboo
Made with a lot of passion and subtle humor, "Straight A's" is a documentary about Lidija Šunjerga, a Croatian woman who moved to Amsterdam at the age of 19, worked there as a prostitute for 15 years and then returned home, facing numerous problems.
20 h – Main Competition 3
Acceptance
21:30 h Closing ceremony & winners announcements
Wondering what is in store for you in interdisciplinary part of the festival?